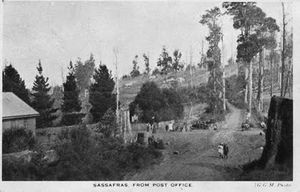 Bio
Suzanne Diprose is from the hills east of Melbourne that were settled over 120 years ago. The Dandenong Ranges and Suzanne's music are linked by time and respect for their beauty and simplicity. This results in old time country and folk music that is pure and would be well at home with bark huts, rustic porches, long petticoats and dray wagons. She has a new band Oh Suzannah, who play old time traditional folk and Appalachian music. 
For many years Suzanne absorbed a range of traditional, bluegrass, roots and country music before picking up her guitar and starting to sing these songs. These songs tell stories of courage, loss, tribulations and also love and celebration. 
A regular at local acoustic music venues, Suzanne is passionate about performing songs and developing shows, and using songs to convey messages to her audiences. She led the development and performance of the Respect Show in a range of festivals and events.
Suzanne established Savannah Rose in 2016 with her music partner and were labelled as Thelma and Louise with guitars! They've had fun performing shows all over Victoria and recording their Calico CD. More recently Suzanne has established another band called Oh Suzannah String Band featuring a range of old time music players and again features sweet harmony singing and string instruments. 
In 2018 Suzanne formed Oh Suzannah - an old time music string band. They have played folk clubs, festivals, radio (3PBS, Yarra Valley FM, Southern FM and Mountain District Radio) and other gigs. They love playing festivals and folk clubs (Fiddlers Convention, Mountain Pickers, Selby Folk Club) - and now in 2020 national on-line concerts and international podcasts. 
For the past couple of years Suzanne has been supporting local music talent through her support of local music development groups, organizing Artist Show Case events and now House concerts. 
Recently Suzanne's song writing skills were shortlisted by the Australian Songwriters Association. She has also developed a serious addiction to collecting guitars on her travels! 
If you would like more information check out Suzanne's music on YouTube, her music Facebook page (Suzanne Diprose Music) sign up to the mailing list or send her message through the contact page.