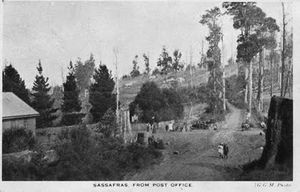 Bio
Suzanne Diprose is a true guardian of the Traditional Country music legacy, channeling the timeless spirit of the Carter Family and early Appalachian artists. Her vocals are a genuine reflection of Old-Time music, possessing a plain and unadorned quality that captures the essence of this classic genre with remarkable simplicity. 
Suzanne's musical journey is rooted in the pure tones of her guitar, and she typically showcases her talent within a Trio setting, joined by a blend of stringed instruments like the Mandolin, Dobro, Fiddle, and Banjo. 
Dedicated to preserving the rich musical heritage of the Appalachians, Suzanne's expertise shines through in her original compositions. Her songs delve into the heart of Appalachian life, addressing the struggles faced by our forefathers and those who toiled on the land. Additionally, she pays tribute to the often-overlooked narratives of women in traditional and folk songs, thereby bringing a unique and thought-provoking perspective to her performances. 
Suzanne Diprose, a steward of musical traditions and a storyteller in her own right, continues to captivate audiences with her authentic Old-Time sound and a genuine connection to the Appalachian musical tapestry.